The Leaf Dump is owned by the Sturgeon Point Land Trustees and maintained by the Sturgeon Point Association with operating costs covered by the Sturgeon Point Association membership fees.
To ensure the Leaf Dump is available for use by members of the community and to keep the costs of maintaining at a reasonable level, a combination lock has been put on the entrance gate to the Leaf Dump.
All Sturgeon Point Association Members have been provided with the combination of the lock by email. If you require the combination please send a message to: [email protected].
Anyone using the Leaf Dump is asked to lock the gate behind them when leaving.
The City of Kawartha Lakes also has various municipal facilities
which accept yard and other waste.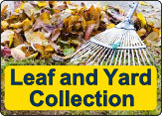 Other Waste
The 2016 Waste collection calendar is available online or use the handy app!
Effective January 2017, the City of Kawartha Lakes will be enforcing
the clear garbage bag program.