2010 News
News and information from the 2010 season.
Click here to go to the current 2011 news.
News for the Week of August 29th, 2010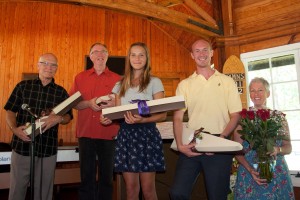 On Sunday, August 29, 2010 local musicians gathered at Sturgeon Point Union Church delighting the audience with various performances during the first ever Sunday of Music.
Church organist, Lynne Davis, and accomplished flutist, Timothy Crouch, performed two wonderful pieces "Allegretto & Valse" and "Concertino by Cecile Chaminade". Lynne will be joining us again next summer as the church organist and throughout the year, will continue her work with the Kawartha Male Chorus. There are several up-coming performances in Toronto for Timothy with his involvement in the Sneak Peek Orchestra.
Veteran guitarist Rick Davis and talented keyboardist Walter Taylor performed several appropriately themed numbers including "Summer Time", "Heat Wave" and a reminder about Fall with "Autumn Leaves". Walter is an active member of the group Little Caesar & the Consuls. The group will be performing in September at the Old Mill and at New Year in Lindsay. You can catch Rick when he performs with the Tone Dogs or practicing his other hobby – golf.
Sturgeon Point's own Madison Kozak paid tribute to her late uncle with two very touching songs. Madison also delighted the crowd with 'Summer Nights' – a song she composed about life at the Point including movie nights and sailing club dances. Madison will be playing on October 16th in Bala at the Cranberry Festival or you can download some of her songs from iTunes.
A big thanks goes to our talented performers – everyone really enjoyed the music! Thanks also to Jean Crighton and Jacqui Mutch-Potporski for organizing this fun event.
News for the Week of August 15th, 2010
Next week is the last official weekend of church with Dorcus Gordon providing the final service for the summer.
The summer is not quite over yet as there is one final special event planned for Sunday, August 29th. The Sunday of Music is a showcase of local talent and will take place at 10:30am at the church. Everone is welcome! This event is ideal for anyone that has been hesitant about coming to church, loves music or would like to take a look inside one of the most interesting buildings around. This is not your average Sunday as there will be no service and plenty of great music. Check out the Sunday of Music Flyer for additional details.
News for the Week of August 8th, 2010
Did you know the Sturgeon Point Union Church welcomes all creatures great and small?
Speaking of GREAT creatures, this past Sunday a bear was seen hanging out in a tree near the church. The authorities were called but unfortunately the bear couldn't stick around for their arrival or for the church service at 10:30am. If you missed the action, some of it was caught on video. Pictures are also available in the church's new Flickr page.
The Annual General Meeting took place on Sunday, August 8th. Feel free to speak to any one of the Committee Members if you have any questions about what was discussed.
This coming Sunday Milton Barry from the Anglican Church of Canada will be leading the service and a reminder that it is a special collection week.
News for the Week of August 1st, 2010
Many people have been asking about sharing photos of our fabulous and unique church. Well in addition to the flyers located outside of the church and in various tourist spots around town, Sturgeon Point Union Church is now on Flickr.
Flickr is an image hosting, video hosting and online community. It is one of the most popular websites used to share photographs. Through the interactive map, users can also access groups or collections of photos from geographical points of interest.
Check out the main Sturgeon Point Union Church Flickr page or sit back and watch the slideshow.
News for the Week of July 26th, 2010
This past Sunday, July 25th church-goers were delighted by flutist Timothy Crouch as he performed Bach's Flute Sonata in E Major. Timothy is Executive Director of the Sneak Peek Orchestra, a Toronto-based ensemble comprised of young musicians and emerging professionals. Be sure to visit their website for details about up-coming performances.
Do you have a musical talent?
Why not volunteer to perform at the Sunday of Music taking place August 29th.
A reminder that this coming weekend is the Salvation Army Food Drive. Donations can be made at the church on Sunday or at the running races on holiday Monday. For additional information, speak to Jean Crighton 887-4366.
The Church is open!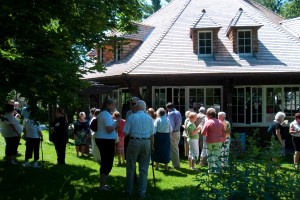 Everyone was welcomed back this past Sunday with the start of church. Rev. Tom Vais from Thornhill Presbyterian Church provided an excellent service. The first verse of Hymn 576 seemed to capture the moment for us all:
The summer days are come again;
Once more the glad earth yields
Her golden wealth of ripening grain,
And breadth of clover fields,
And deepening shade of summer woods,
And glow of summer air,
And winging thoughts, and happy moods
Of love and joy and prayer.
Samuel Longfellow (1819 – 1892)
After church everyone had a chance to gather on the lawn to enjoy some refreshments while catching up with friends and neighbours. Thanks to members of the church committee for providing the delicious home-baked goodies and refreshing drinks.
Dedication to Charlie Gray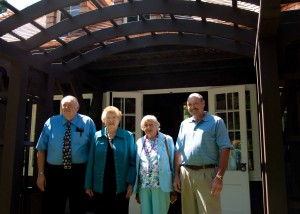 On Sunday, July 4th a special dedication took place in honour of the late Charlie Gray. The two arbours, located outside of both church doors, were taken down and reproduced over the winter. They have been generously donated by Charlie's family.
New Church Roof
Because of the congregation's past generosity the church was able to replace the cedar roof this past spring. Thanks to everyone involved.