The Church is used for weddings, baptisms as well as other community events.
Contact: church@sturgeonpoint.com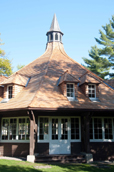 The Sturgeon Point Union Church has been a focal point of the community since 1915. The unique architecture of the building makes it an ideal venue for weddings, baptisms and other celebrations.
In order to preserve and maintain the heritage, a few guidelines have been established:
Weddings and special events are to be held only during daytime hours.
Decorations and flowers can be be brought before the occassion and arrangements can be made for access to the church prior to the event.
There is a fee for hosting a wedding at the church.
Because the church is non-denominational and there is no resident Minister, religious events require you to bring your own Minister/Officiant and musicians.
No confetti, flower petals, rice or birdseed, or serving of food and drink is allowed inside the church or on the property.
Angle parking is available across the road from the church and cars may be parked beside the mail boxes and down Forest Road, if necessary.
NO LIGHTED CANDLES ARE PERMITTED IN THE CHURCH. This is a wooden structure and any type of open flame is not allowed.
There is no running water or washroom in the church, nor is there air conditioning or heating. However, there is a portable washroom in the playground close to the church from June 15 to September 15.
Regular Sunday morning service takes place during July and August, 10:30 am – Everyone is welcome!
For a list of available dates, consult the calendar at the top of this webpage or send your request by email.